Are you looking for a way to use subway tile in your bathroom? Are you planning to do something different in your bathroom using subway tiles? I assure you that you will get the exact thing you need here. This write-up is all about making your bathroom a comfortable place with great design. Here, I'll be explaining how you can use subway tiles uniquely. However, before moving further, let me briefly talk about subway tile.
A subway tile is a rectangular piece of tiles arranged in the form of a brick. It's a unique way of installing tiles to remind you of subway stations. This excellent subway tile has a unique way of adding space to bathrooms, kitchens, and even powder rooms. One beautiful about subway tile is that it comes in different colors. I mean shades that fit all kinds of styles that range from traditional to contemporary.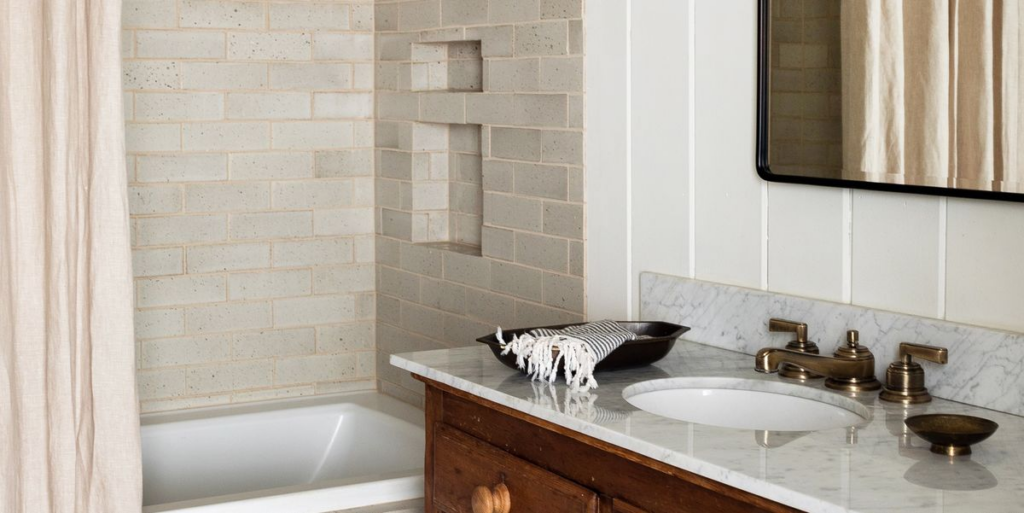 Also, this unique tile is fashionable. Just like the little black dress, this tile is the best choice if you want your bathroom to be the talk of the town. Therefore, to make your bathroom look great or you want your bathroom to retain its originality for years, then you need to consider using subway tile. So, below here is how you can creatively use subway tiles;
Subway tile all the way around: Have you seen something like this before? Have you come across a rectangular piece of tiles being laid in brick-like? If you have seen it, you can't tell how beautiful it is. But if you've not seen something like that before, you're missing something. This style of subway tile in a bathroom will make it look stunning. It is a situation whereby one installs subway tiles all-round the bathroom. The only thing one should note here is that one must pick or choose other materials that would complement the color of the subway tile in that bathroom. Honestly, I am not flattering you. Okay! Seen is believing. You can take extra effort by checking search engines like Google. Search for subway tile all the way around. You will know that it's something you need to consider for your bathroom. Subway tile has a sleek look and a modern feel. So, with that, you can never have too much subway tile in a bathroom. You can also read about The Dos and Don'ts of Tiling a Small Bathroom by clicking here.
Try to use different types of tile: Who says you can only use a style or a kind of tile in a bathroom? That's not true. How about trying a large version of marble subway tile in a traditional pattern and adding a smaller version of tiles arranged in a herringbone pattern. All you need to do is ensure that the color and the texture of tiles merge or complement each other. Trust me; if you can try to use different types of tile to design your bathroom, you are trying to give your bathroom a nice touch. With a good selection of colors, everything will be kept cohesive, and yet it would create a dynamic space in a bathroom.
Make it straightforward: Have you seen a bathroom with subway tiles laid in its simplest form? Yes, I have seen countless of them. A bathroom with a great design of subway tiles has been installed in its simplest form and is straightforward. If you can try this in your bathroom, you will have something different from what you've seen in other bathrooms. Remember, we are talking about how one can create something different and unique using subway tile. Installing subway tile has a fantastic way of giving the illusion of something more significant to a smaller space.
Subway tile in a herringbone pattern: No one should put words together to entice you before you believe that the herringbone pattern on your bathroom walls and the floor is a great choice. Honestly, the herringbone pattern has naturally made way for itself today in our generation. The herringbone pattern is what people are using these days. Oh! What do I mean by herringbone pattern? The herringbone pattern is when tiles are cut into rectangular pieces of the same size to form a zigzag pattern. I know you might have seen something like this in a bathroom. Therefore, one can use subway tiles in a herringbone pattern to create something unique and outstanding in a bathroom. Thus, this is one of the ways one can uniquely use subway tile in a bathroom. So, if you want your bathroom to be a comfortable place, try to use subway tiles to create a stunning herringbone pattern. You will never regret doing that.
Modern meets rustic: One of the best ways to make your bathroom like heaven on earth is by pairing subway tile with metallic accents. But the only thing one should note is that one must hire a competent tiler and a professional interior decorator. The work of the interior decorator is to look for other materials that will add life to the subway tile. Different materials in the bathroom will make it look radiant. So, to try subway tiles with metallic accents, you must do some extra work. But of course, it is gorgeous. I have seen people doing this in their bathroom, and the outcome was great.
Add a stone bench with the same style/design: One of the best ways to creatively use subway tile is by blending it with other materials of the same pattern or design. How about trying a stone bench and subway tile walls using the same marble pattern? Of course, it's going to be great.
On a final note
The only thing to make this write-up a reality is hiring a competent tiler to handle your project. One thing is to know what you want your bathroom to look like. Another aspect which is the most important one is to find a competent and experienced tiler that would bring out the exact picture of what you want. Therefore, I urge you to carefully and wisely choose a qualified tiler. Finally, dear reader, kindly drop your question or contribution in the comment box. You can also read about 3 powerful reasons why you need to use subway tiles in your home by visiting http://homedecorxp.com/3-powerful-reasons-why-you-need-to-use-subway-tiles-in-your-home/